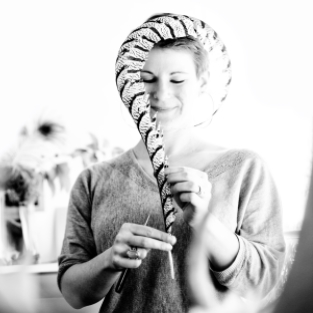 Valérie Tanfin works with feathers of all kinds – from the most fiddly and delicate to the most gigantic and extravagant: her expertise is rare, combining tradition with a modern touch. Drawing inspiration from her experience of the world of haute couture and show business, she transforms the lightness of feathers into a lively, moving material. From fashion accessories to works of art, not forgetting interior design, her creations are part of a constant search for excellence and amazement. She carves out a universe that exudes luxury with an inherent dreamlike component. Her artistic approach stems from a harmony of senses and colours, accentuating the enchanting finesse of every piece.

"You need to master the material and understand it to take it to a higher level. I want to create pieces that echo light because this is what gives them their volume and intensity."
INTERIOR DESIGN

PERFORMING ARTS

FASHION
Beauty of gesture, combined with high-quality materials are the secret of a successful piece.
"In fact, the expertise required in the feather work profession forms the basis of detailed, lasting work. Often imitated but never equalled, the techniques of this artistic profession call for absolute respect for the materials used.
In her studio, Valérie is committed to full compliance with the standards governing the handling of animal materials by adhering to the Washington Convention to protect animal species. Only feathers from birds raised in captivity or ones that have fallen during moulting are used to produce her creations.
Particular attention is also paid to hygiene as every piece is produced with carefully sorted, specially treated feathers.
Finally, raw materials are selected in a very careful manner. Each feather is handled five times on average until the right place is found for it in a piece.
Systematic use of high-quality materials forms the basis of Valérie's work: 925 sterling silver for the creation of jewellery and precious wood when making decorative objects, etc..
By placing your trust in Valérie's work, you will be offering yourself the luxury of a top-quality, haute couture piece, uniquely for you."